Forest Home has gone cashless. Starting this summer, Forest Home will accept only credit cards or Forest Home Store Cards for all retail purchases while at camp. Forest Home will no longer accept cash for retail purchases.
Please purchase a Forest Home Store Card for yourself, or a loved one, before arriving to camp.  Once purchased, please link a telephone number to your Store Card that is easy to remember. This will make it easy to purchase items at camp through simply providing this number. We highly encourage this method as physical Store Cards can easily be lost while at camp.
Also, you are able to check balances of your Store Card at any time. If you want to add additional funds, you will need to purchase a second store card through the same process.  It will be assigned in the same way to your camper, and will be a seamless process from them. If you are a parent, we recommend purchasing an $80 Store Card for students attending youth programs. Instructions for purchase are below.
*Please note: Store Cards will not work for parents sending children to Wild Rock, Forest Home's children's program. If you are a parent sending a child to Wild Rock, you must purchase their Store Card during the registration process or logging into your Forest Home account.  Click here to log into your account.
Store Card purchasing Instructions:
We recommend reading all instructions before starting the process.
Step One: Select your gift card amount, add your name and email, then select "I want to send this to myself". Click "Continue".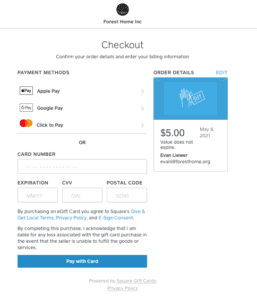 Step Two: Enter your payment information and click "Pay with Card"
Step Three: Your order will be complete. You will receive TWO emails, a confirmation email and an email to assign the card. In the next step you will assign the card to your camper.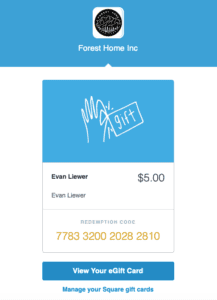 Step Four: Open the email you received and click the "View Your eGift Card" button.
Step Five: Enter the phone number you want your camper to be able to use to access the gift card. Click "Next".
Step Six: You are all done! Visit any Retail Location at Forest Center, Creekside, or Lakeview to access funds.