This 130-acre year-round campus, can provide up to 244 of your guests with a comfortable stay with traditional cabins, indoor dining, and a variety of meeting spaces. Looking for a rugged, outdoor experience? Our Ojai Valley campus also offers classic tent cabins, outdoor dining, and a number of outdoor meeting spaces.
We are located in beautiful Ventura County, nestled against rolling hills dotted with rustic oak trees, just 15 miles from the Pacific Coast. Guests will enjoy peaceful surroundings, starry nights, breathtaking sunsets, and secluded grounds. Warm days and cool nights meet afternoon sea breezes in a cozy setting.
Your guests can choose from the wide variety of recreation options at Ojai Valley. Zip Lining, hiking, human foosball, and swimming (just to name a few!) all ensure that your guests will have an unforgettable experience at your event, whether they are looking for a sense of adventure or simply seeking a time of quiet reflection in a tranquil place.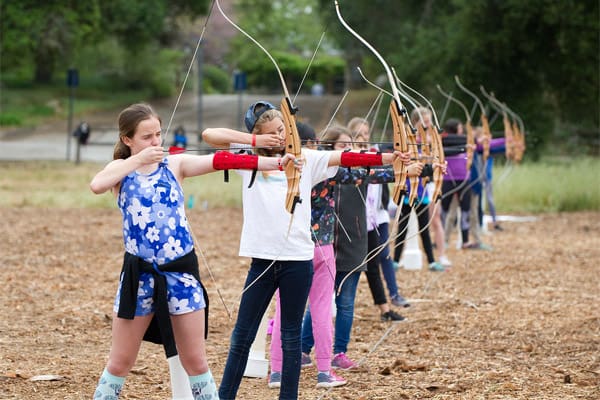 ARCHERY
Enjoy our full size, 40 yard,12 lane outdoor archery range that includes 3D targets. We provide all equipment, and range instructors. A fun time for guests of all ages. See if you can hit the bullseye.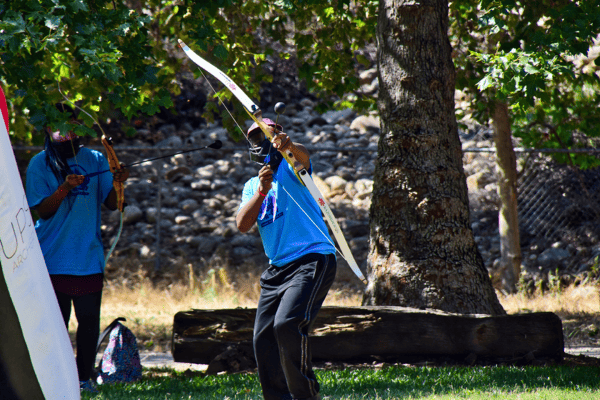 ARCHERY TAG
After a little time on the archery range, you will be well equipped for archery tag! We change out the arrows, set up the bunkers, and send you into battle. See if you can be the last one standing?
HIKING
We have four great hikes that vary in difficulty, from easy walks to challenging inclines. Each lead to stunning views that can only be reached on foot. Put in the effort and enjoy the perspective from the top.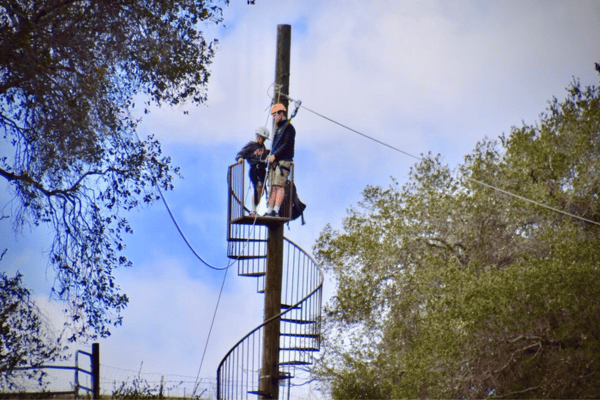 ZIPLINE
If you want to trade in tranquility and peacefulness for excitement and adventure, our ziplines will do the trick. We have a fast one, and a faster one! If you feel the need for speed, then hold on!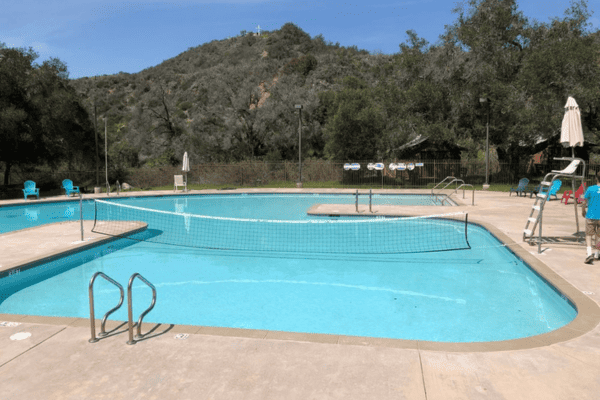 POOL
Few things beat the heat on a hot summer day better than the pool. Enjoy fun activities like volleyball and basketball in the pool. Life guards are always present to ensure activities are both safe and fun.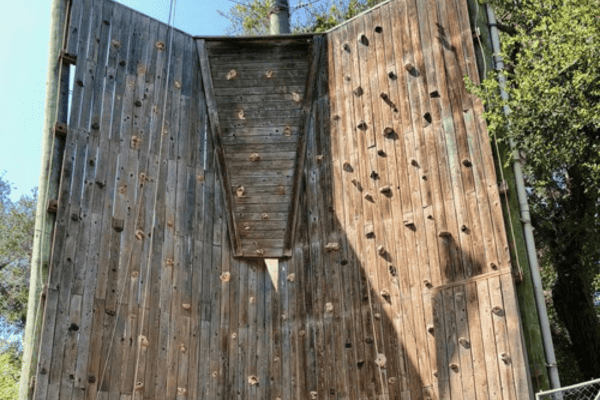 CLIMBING WALL
If you like to challenge yourself, our 45-foot climbing wall will do the trick. There are several paths, but honor awaits those who take the center path to the top.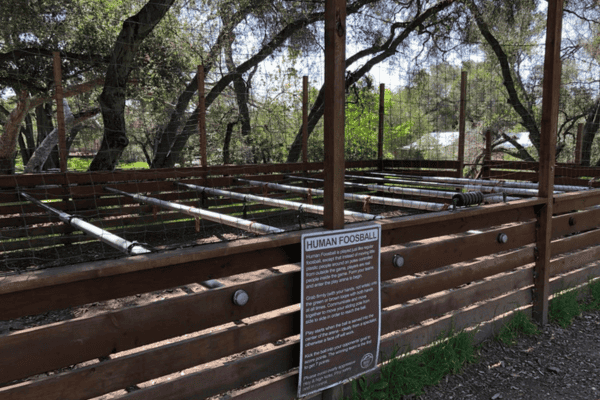 HUMAN FOOSBALL
Do you enjoy foosball? Have you ever wondered what it would be like to jump inside the game? Now you can with our human foosball court. Just like regular foosball, your players attach to the poles and must move as a team to win.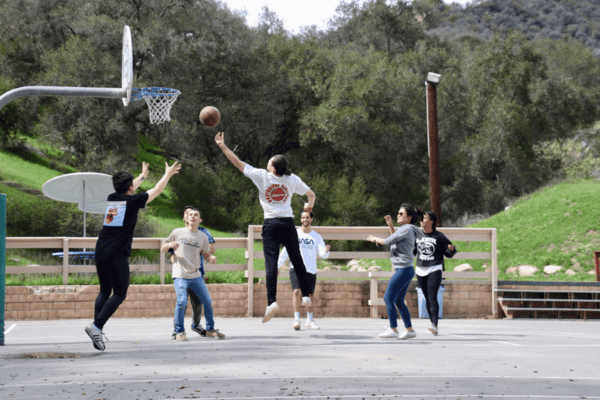 BASKETBALL
Nearly every group we host ends up on the basketball court sooner or later. A great way to have a great time in a great environment.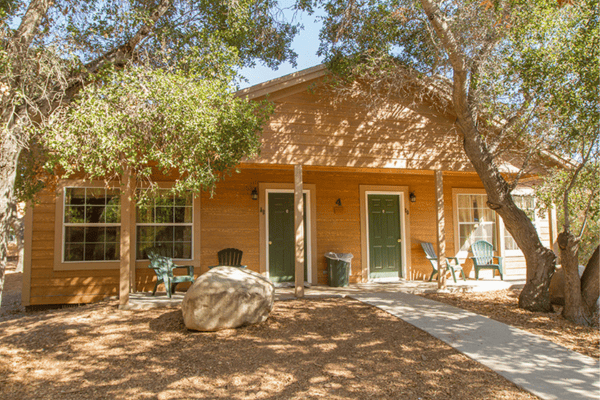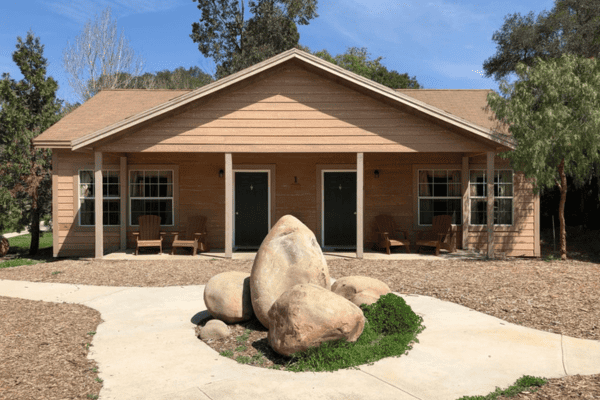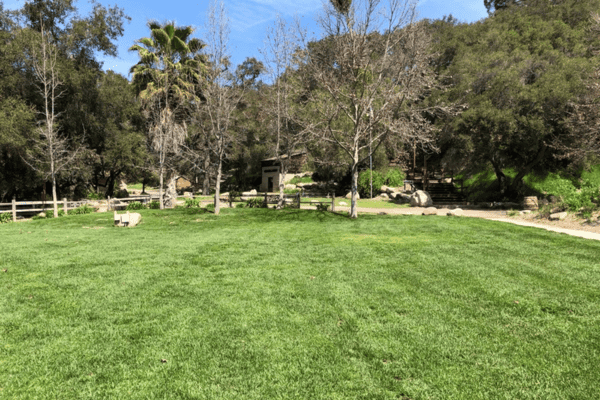 We have community-style bunk bed housing with shared bathrooms. Four separate sleeping rooms with air-conditioning and heaters. Adirondack chairs sit comfortably on the outside porches.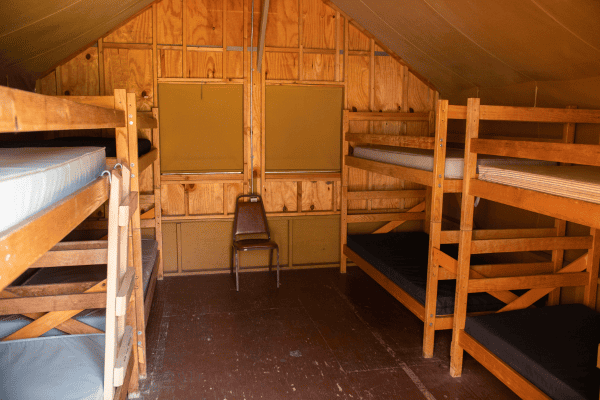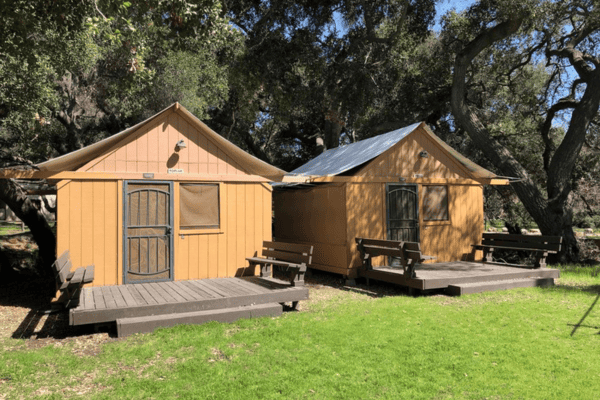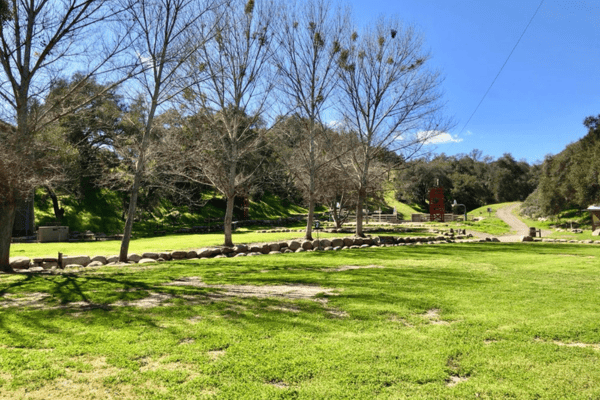 Tent cabins with canvas sides, screen doors, windows, and electricity, protect guests from the elements. Front porch decks provide great communal space with views of nature. ​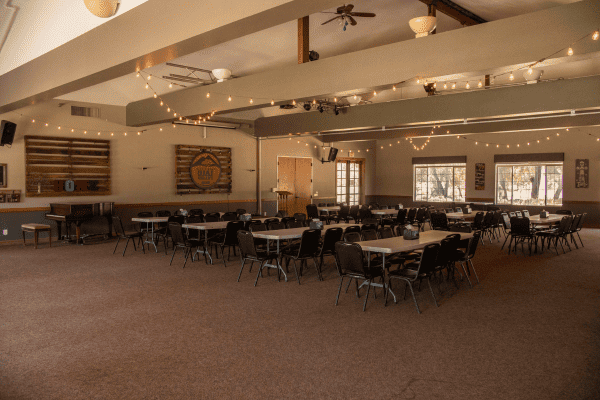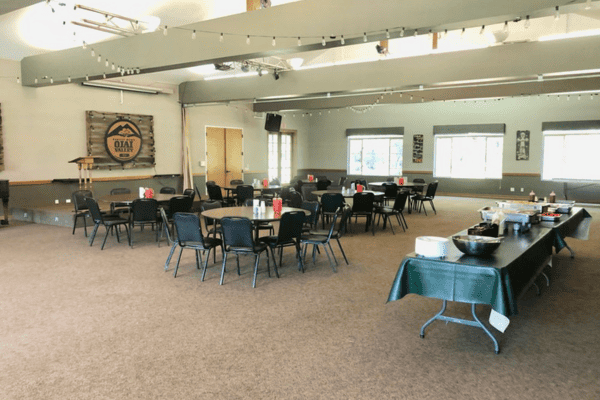 This conference and dining hall accommodates full camp meetings. It can also be used for dining and seats 225 with available outdoor overflow. It offers either round tables or banquet tables for dining. Standard media equipment available in this venue including stage lighting, video projection, screen and sound system. Allen Hall is located in the upper part of camp.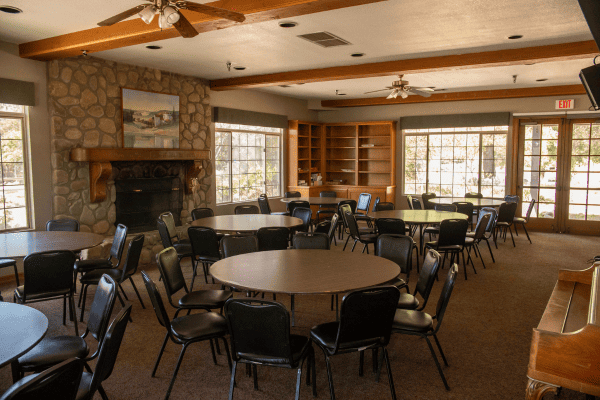 Located in the same building as Allen Hall, Hansen Room is a cozy meeting space that features a stone fireplace with couches for an intimate setting. This versatile meeting space can accommodate 60 comfortably. We offer both sounds systems and video projection upon request.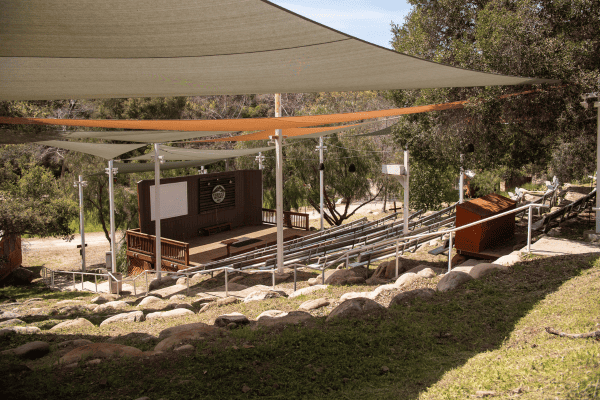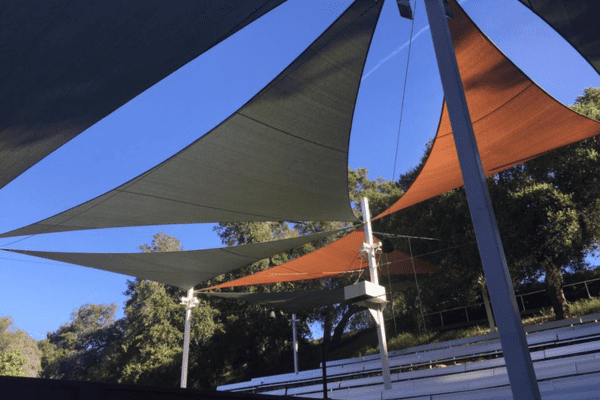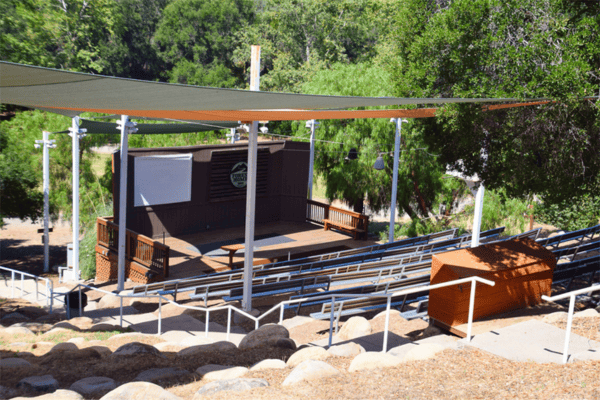 An outdoor venue with bleacher seating for up to 300 campers under shade sails. Nestled among oak trees and boulders, it features a large stage equipped with audio, lighting, and video projection.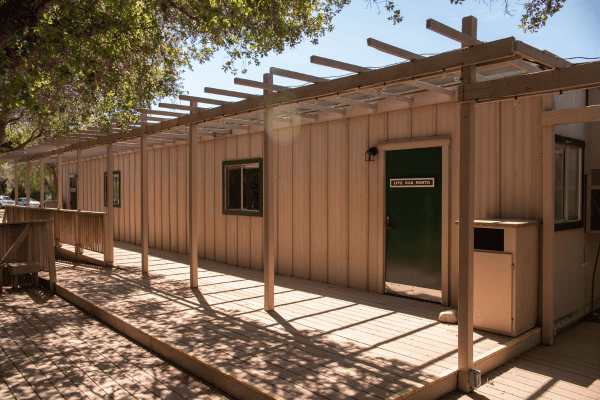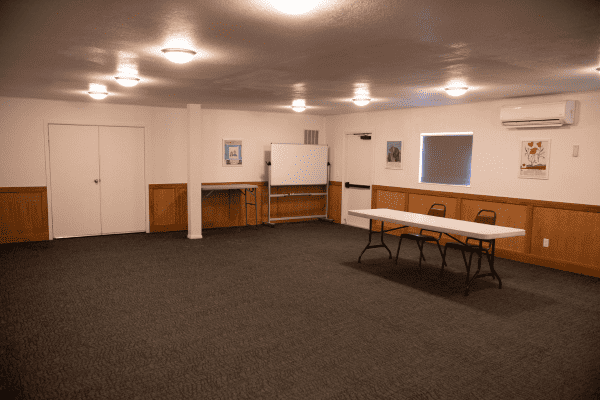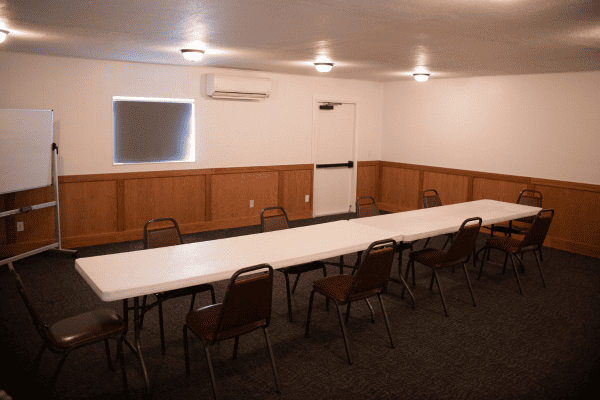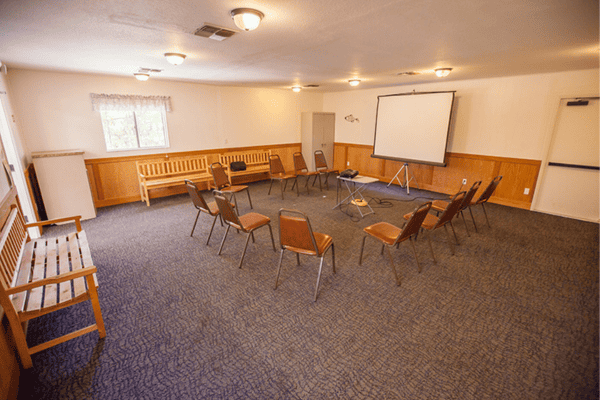 Located on the lower level of camp, closest to the cabins and tents, these conjoined meeting rooms are ideal for small to medium size gatherings, or as breakout spaces for larger groups. They accommodate 50 and 30 guests, respectively.
All deposits are non-refundable and due at the time of registration
Conference balance is due two weeks prior to check-in
At the discretion of Forest Home, prices are subject to change at any time
Churches or groups with a signed contract should refer to the contract for payment guidelines